What is Phishing?
Phishing is a fraudulent attempt by cyber criminals to collect sensitive information online by pretending to be a trustworthy website.
A phishing attack can happen through an email that looks legitimate and it will encourage you to click on a seemingly innocent URL that will instead lead you to a fake website. It will often require you to fill-in personal details such as bank accounts, credit card numbers, passwords, usernames, or other sensitive information. It can compromise your privacy and could ultimately lead to identity theft.

ZoneAlarm Anti-Phishing
ZoneAlarm Anti-Phishing protects your private information from a phishing attack while browsing online, and will secure your personal information from hackers and malicious websites.
The ZoneAlarm Anti-Phishing Chrome extension will scan all websites before letting you insert any personal information. It will alert you whether it is a safe website or a phishing attempt.
The Chrome extension gives you maximum security with optimal browsing performance as it only scans the website before inserting information.
The Chrome Extension is available to ZoneAlarm Extreme Security, ZoneAlarm Pro Antivirus+Firewall and ZoneAlarm Pro Firewall users. To enable ZoneAlarm Anti-Phishing, please make sure you install ZoneAlarm 2019 software and check the box as in the screenshot below: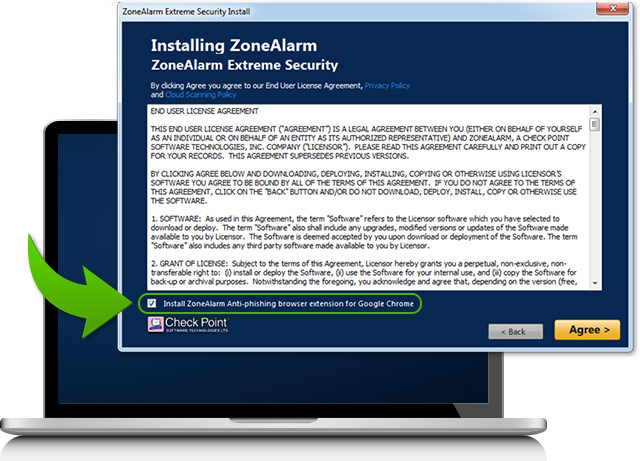 At the end of the installation process, please click on the Google Chrome message which asks if you want to enable the ZoneAlarm Anti-Phishing extension.
With the ZoneAlarm Anti-Phishing Chrome extension, you can enjoy safe and fast browsing online with confidence that your personal information will be secure.